February 27, 2020
Leading with Technology: Trends in HR Tech
This is the first article in a three-part series on HR executives utilizing technology to better lead and empower HR. Read the second article here and the third article here. 
Disruptive technology trends have revolutionized the very practice of HR and require HR leaders to have a new set of technology-related competencies. 
A recent research article by MIT Sloan indicates that 82 percent of Chief Human Resource Officer (CHRO) respondents say their companies need digitally savvy leaders. Yet in that same study only 40 percent say that their organizations are building robust pipelines of leaders with digital skills. 
HR leaders must have a technology strategy. That plan must:
Address the HR technology trends and
Follow best practices, effectively leveraging and incorporating technology.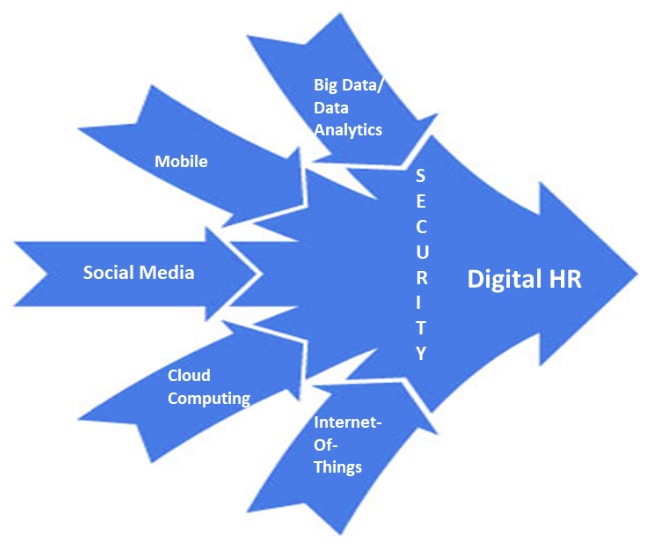 An HR digital plan must address the five HR technology trends that have revolutionized how we work:
Social Media
Data Analytics
Cloud Computing
Mobility
The Internet of Things
While we will examine them individually, the power comes from interconnectivity and interdependence of the technologies.
1. Social media influences and engages the workforce. HR increasingly relies upon social media for functions such as sourcing and recruiting but also for team building and communication. A social media component to a technology strategy requires addressing legal issues of privacy and security. That said, it is an inexpensive way to communicate a uniform message, gather employee feedback, build momentum toward organizational goals and establish connections across business units. 
2. Data analytics provides reliable information for decision-making. Reliance upon current, sophisticated HR data analytics systems typically improves the quality of data available. The usefulness, timeliness, accuracy and completeness of the management information directly impacts data analysis and ultimately the quality of decision-making. In the past, obtaining management information could require human intervention to pull data from a variety of sources. With the new cloud-based integrated HR systems, information can be gathered from a single database, allowing for customized searches and reports.
3. Cloud computing provides the backbone for HR technology functions. Gartner predicted that by 2020, 60 percent of global enterprises would have invested in a cloud-deployed HR administration and talent management system or suite. Experts anticipate that number to rise. Why? Because the advantages of cloud-based HR systems outweigh the drawbacks, including:
Streamlined recruitment processes that allow recruiters access to seamlessly review, identify, invite and interview applicants remotely.
Increased employee satisfaction due to the accuracy, timeliness and uniformity of communication, continuous performance reviews, etc.
Innovative ideas spurred by collaboration made possible through the cloud.
Timely communication that enables the flow of information and stimulates innovation.
Relief from repetitive tasks by diminishing the amount of paperwork through digitization and electronic storage of documents.
Migration toward the Internet of Things (IoT) that is the backbone of artificial intelligence and machine learning.
4. Mobile technology offers employees convenience and job assistance. HR can use mobile technology in a variety of ways such as offering access to an employee self-service portal, training through m-learning, providing performance support tools or resources, relaying corporate messages and even supporting corporate health initiatives. The savvy HR leader includes a mobile computing plan in the department's technology strategy.
5. The Internet of Things (IoT) gathers information that feeds decision-making and provides data for artificial intelligence and machine learning. IoT offers data gathering through connected devices that serves as the basis for artificial intelligence and machine learning. HR IoT applications include everything from activating/deactivating security systems, to conducting unbiased job interviews modulated by machine learning, to locating and reserving a conference room. Data from wearables can be used to predict employee behaviors and technology usage patterns. 
With these technology trends, using common sense and staying current regarding potential privacy or security issues is also our responsibility. 
HR leaders benefit from knowledge about technology trends so that they can better prepare for the future. 
Do not relinquish technology to the IT department. Instead, as an HR leader, guide the organization toward maximizing the powerful and influential position HR professionals have earned.