August 15, 2019
Incentive Plans Can Support Environmental, Social, and Governance Initiatives
In May 2019, Mercer conducted a survey to capture information on companies' use of environmental, social, and governance (ESG) metrics in incentive plans, including goals linked to environmental factors, employee engagement and company culture, and diversity and inclusion. The survey found that over half (51 percent) of the respondents either currently use ESG metrics in their incentive plans (30 percent) or are considering doing so (21 percent). The 135 respondents represent public, private, and not-for-profit companies from Canada and the United States. 
Companies are facing increasing expectations from all stakeholders—including mounting pressure from employees and investors—to operate in an environmentally and socially conscious way. According to Mercer's 2019 Global Talent Trends Study, nearly 40 percent of executives are concerned about corporations' responsibility to address societal issues—almost double last year's rate. To reinforce positive actions and corporate values, companies are increasingly considering using environmental, social, and governance metrics in incentive plans. 
Sending a Companywide Message
Among survey respondents using ESG metrics, the metrics typically comprise 5 percent or less of all incentive plan metrics. But they don't apply only to senior executives: 75 percent of respondents using ESG metrics say they apply to all plan participants. Despite their small relative weight in determining payouts, incentive plans that utilize ESG metrics can reinforce desired behavior across a company's workforce.
ESG incentive plan metrics by themselves will likely not drive behavior—nor are they intended to—but they are a great mechanism to signal what is important and reinforce a company culture that encourages employees to act in an environmentally and socially conscious way.
Prevalence Varies by Industry
ESG metrics are most commonly used by mining and metals companies (82 percent of respondents in that sector) and the energy sector (52 percent). None of the respondents in the technology and insurance/reinsurance sectors currently use ESG metrics, but Insurance/reinsurance companies are most likely to consider using them (43 percent).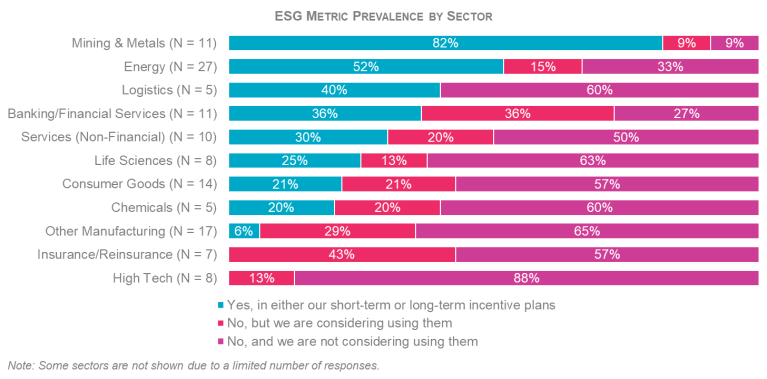 Type of Metric Varies by Industry
As expected, companies in the mining and metals and energy sectors are far more likely to use environmental metrics (96 percent). Employee engagement/culture is the most prevalent metric for all other sectors (76 percent), followed by diversity and inclusion (35 percent).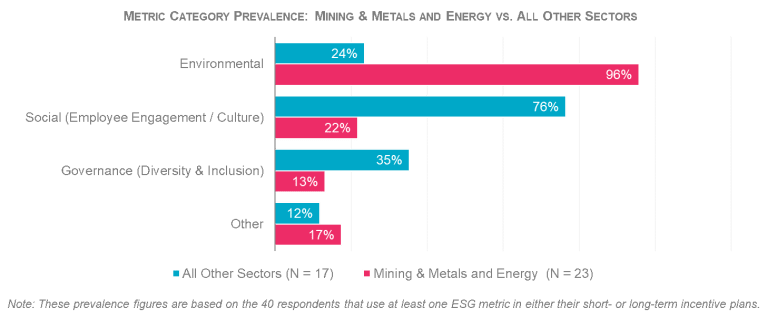 Environmental metrics. The high usage of environmental metrics among respondents in the mining/metals and energy sectors is not surprising. It is in these firms' best interests to use the natural resources that they heavily rely on in a sustainable and environmentally friendly way. Common metrics in these industries include:
Reducing reportable environmental incidents and violations, 
Increasing workplace safety, and
Reduction of fresh water usage.
Environmental metrics outside of these sectors often focus on reducing carbon footprints, increasing energy efficiency, and reducing waste.
Employee engagement. Companies in every industry underscore the importance of an engaged, committed, and high-performing workforce. While it can be a challenge to objectively assess and track employee engagement level, its appearance as a metric in incentive plans is a testament to its importance. While the specific metrics used to measure employee engagement should be tailored to each company's workforce and culture, these metrics may be measured by: 
Year-over-year changes in employee engagement surveys, often administered by third parties,
Reduction in voluntary terminations, and
Achievement of milestones relating to learning and innovation.
Mercer's 2019 Global Talent Trends Study found that sentiment analysis and engagement surveys are on the rise: 32 percent of respondents survey employees twice a year and 22 percent do it more regularly. As more companies attempt to track employee engagement and evaluate the effectiveness of internal initiatives aimed at improving their results, it is expected these metrics will play an increasing role in incentive plans.
Diversity and inclusion. Mercer's 2019 Global Talent Trends Study also found that a top concern for executives is delivering on diversity initiatives, and for good reason: Thriving employees are four times more likely to work for a company that delivers on diversity and equity in pay and promotions (78 percent vs. 18 percent).  Diversity and inclusion metrics come in many different forms, including:
Achieving predetermined goals of representation by females and minorities at leadership levels, or more broadly within a company's workforce,
Evaluating gender pay equity and adjusting compensation as appropriate, and
Increasing supplier or contractor spending to minority- and female-owned companies.
Diversity and inclusion is a complex topic and, like other ESG metrics, there is no "one size fits all" method to measure and track progress on this issue.
Measurement Easier Said Than Done
Financial metrics, which typically account for a large portion of incentive plan metrics, can be measured objectively and transparently and are often regulated by a common set of accounting principles and standards. This is not the case for ESG metrics. The survey found that nearly one-third of ESG metrics in short- and long-term incentive plans are measured on a qualitative basis, rather than quantitatively. This observation shows that while companies are committed to making progress on ESG goals by including related metrics in their incentive plans, many prefer to evaluate performance subjectively. This is especially true for diversity and inclusion metrics in which roughly two-thirds are evaluated qualitatively. It is also common for companies to include ESG-related goals into a qualitative assessment of an individual's overall performance. At the most senior level within companies, this assessment is completed by the board of directors.
Committed to Corporate Social Responsibility
Companies and their human capital operate under a backdrop of growing fears of climate change, uncertainties about the future of work, and concerns around female and minority representation. Attracting and retaining talent requires companies to demonstrate to their employees and other stakeholders that they are committed to addressing these important issues. The use of ESG metrics linking environmental factors, employee engagement, company culture, and diversity and inclusion to incentive plans can help support companies' efforts to make positive changes.