November 12, 2019
How to Address the Pay Equity Problem
Today's business, regulatory, political, and social climates are combining to place unprecedented levels of scrutiny on what organizations are doing—or not doing—to ensure they are paying their employees fairly regardless of their gender or race.
More than 80 countries have some form of equal pay for equal work legislation, and more than a quarter of those have some sort of mandatory reporting requirement. In a norm-shattering way, within the US, several states and cities recently have enacted legislation that precludes employers from inquiring about salary history during the recruitment process in an effort to ensure more equity in pay across all demographic groups.
Banning questions about compensation history during the employee recruitment process are designed to address gender pay inequality. While it has long been illegal for employers to pay different wages to men and women for the same work a pay gap still exists. The ban on asking questions is an attempt to level the playing field and not perpetuate past pay inequities. For example, two employees hired at $50,000 and $52,500 (a 5-percent difference in starting salary) will have a $200,000 cumulative pay gap over a 40-year career, assuming a 3 percent increase for each over this time.
Addressing Different Types of Pay Gaps
In facing this rapidly changing landscape, it's important to make some key distinctions in different types of pay gaps that often get intermingled and confused.
There is equal pay for equal work and then there is the overall pay gap. Equal pay for equal work means like-for-like job comparisons controlling on pay across job level, function, location, employee experience and other relevant variables. The overall pay gap is about comparing the average of all male salaries to the average of all female salaries. 
The emphasis on which pay gap to focus on varies by country. In the US, the spotlight on pay equity is primarily on ensuring equity across gender and ethnicity in equal pay for equal work. In many European countries, the spotlight conversely, is on the overall pay gap across gender. For example, in the UK for the past two years, medium- and large-size organizations have been required to report out data on their organization's gender pay gap. 
In the US, Korn Ferry data suggests that the like-for-like pay gaps are on average less than a full percentage point different between genders. However, the overall gender pay gap in the US exceeds 20 percent. Virtually every other country sees this same pattern of difference in pay across gender. This is primarily driven by differences in access to higher-level jobs and higher-paying jobs, given that males make up the majority of executive roles. Males also tend to make up a majority of employees in the higher paying STEM fields such as engineering, information technology, and other scientific disciplines.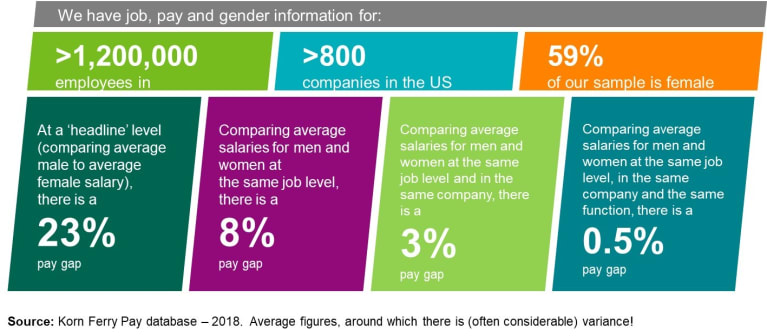 Unfortunately, most companies are not ready. Research in the US shows that though a majority of companies say gender pay is an issue for them, 40 percent of those companies have not taken any substantive action on the issue, although most say they are likely to in the near future. 
A Multi-Prong Approach to Closing the Gap
While there are various tactical best practices available to close the gender gap once the pay gap analysis has been performed, CEOs and HR leaders in forward-looking organizations are not just already addressing the letter of the law, they are seeking to address its spirit. 
Rather than solely checking the box on pay equity compliance they understand larger issues that led to pay inequities in the first place have to do with not having been able to address behavioral and structural aspects of their talent management—and diversity and inclusion processes in particular. This means addressing the lack of diversity in their leadership teams, the gaps in having an inclusive culture, and the need to have transparent and credible reward and talent management processes that foster development and increased capacity for all employees. 
Not only do they understand that they are reducing their compliance risks, but much more profoundly they understand that companies that do this financially outperform those who don't. Further, C-suite leaders see this as an opportunity to improve trust and engagement in the organization and to improve its employer brand and move from the notion of solely pay equity to one of employment equity. 
To ensure a robust assessment of your organization's pay equity management program, the entire talent supply chain—and not just the tactics of correcting actual pay gaps—should be reviewed to focus on the drivers of pay equity.
In-depth research shapes this key recommendation that a de-biasing audit first be conducted on every dimension of your talent processes. Time after time, the audits are replete with inadvertent unconscious biases codified by individuals unaware of their own personal unconscious biases.
Reward management: Look at your work structures, job evaluation, base pay delivery, promotion guidelines, bonus calibration, and payouts. For example, it has been uncovered that the gender pay gap becomes more pronounced when women take maternity leave, leaving a gap in their career trajectory, which is usually difficult to make up for. Organizations that have explicit paternity policies and encourage fathers to take childrearing breaks often see better pay equity. 
Talent acquisition: Look at your hiring guidelines, candidate distributions, compensation offers and offer approval processes, and employer branding. For example, what often gets uncovered is that role descriptions tend to enshrine adjectives and behaviors that are more commonly associated with masculine characteristics as well as Western values. 
Talent management: Look at your high-potential candidate identification, career management, promotion practices and distributions, succession management. For example, it has been well established that women tend to get promoted based on past performance, while men often receive promotions based on their perceived potential. 
Performance management: Look at performance goal setting, coaching, assessment, performance rating distributions and pay-for-performance relationships. For example, we have seen time and again that women and other underrepresented talent receive fewer visible, important and complex growth assignments and have to prove their ability to succeed in those assignments more often in order for their performance to be seen as exceeding expectations and be compensated accordingly.
Organizations also need to address their leadership and culture:
Leadership: Assess your leaders on their inclusive leadership skills. Chances are exceptionally high that there will be gaps in your leaders' ability to lead inclusively. They will likely need coaching and cohort learning experiences. 
Culture: Do an enterprise diagnostic of how inclusive your organizations is. This is often done through a diversity and inclusion survey, focus groups, and stakeholder interviews. This work is best accompanied with a talent flow analysis that looks at how talent comes into the organization and flows through it sideways, upward or out. Root-cause analysis seeks links between those talent flow trends and what behaviors toward differences are experienced, tolerated, and encouraged.
Organizations that focus on addressing pay equity management proactively and holistically will not only reduce their risk of litigation, they will benefit by increasing the trust and engagement levels of their employees and better position their organizations as an inclusive employer of choice.