April 25, 2019
How NASA Prepares for the Future of Work
For the last 60 years, NASA has been marked by talented, curious, and relentless adventurers who have explored the unknown for the benefit of humanity. This workforce has achieved the impossible, including setting foot on the Moon, landing rovers on Mars, living for nearly two decades in Low Earth Orbit, and ushering in unprecedented discoveries in science and aeronautics. To navigate the next 60 years, NASA's biggest challenge is to attract, engage, and inspire the next generation of talent. 
From technological advancements to the shifting expectations of a multi-generational workforce, people everywhere are experiencing the increased complexity and pace of a changing world. NASA recognizes that today's environment is significantly different from that of its past decades of success. Success in this environment requires us to negotiate new realities where work is more complex, workers are more spread out, responsibilities are more matrixed, and organizational structures are flatter. How do we prepare for work in the next 60 years? 
In response, NASA has developed a Future of Work framework to systematically understand the global shifts, trends, and implications. The framework serves as a guide for the Agency as it continues to lead the world in exploration while navigating a continuously shifting work environment. 
To develop our framework, we reviewed the latest research on the Future of Work and conducted internal and external workshops, focus groups, interviews, and surveys to understand the implications and opportunities for NASA. The result is a framework that identifies eight insights, challenges, and opportunities to inform NASA's talent strategy going forward.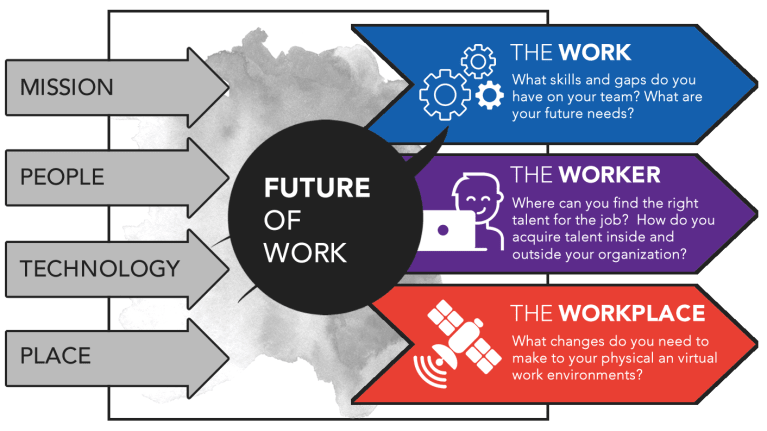 We identified four primary forces external to NASA, that are common to everyone, and are continuously impacting and influencing our organization. As depicted, they are mission, people, technology, and place. These four highly contextual, largely uncontrollable external factors influence our organization and all of them existed prior to our current digital era. 
NASA's mission is to drive advances in science, technology, aeronautics, and space exploration to enhance knowledge, education, innovation, economic vitality, and stewardship of Earth. Our mission statement outlines our fundamental purpose as we partner in an increasingly competitive and highly regulated environment to reveal the unknown for the benefit of humankind.
An organization's greatest asset is its people. Understanding the expectations, preferences, and behaviors of the diverse, multigenerational workforce will allow us to develop new talent strategies that go beyond today's practices and leverage the many drivers reshaping the global talent landscape. Building NASA's dynamic workforce of tomorrow requires that we value diversity, encourage new skill development, and understand changing expectations. 
The most widely discussed driver of change for the future of work is technology. The evolution of technology is fast paced and alters the way we communicate information and coordinate in real time. Technology enables NASA to more effectively translate data into knowledge and improves the Agency's ability to make real-time strategic decisions and increase operational efficiencies.
As we continue to migrate towards a global and connected workforce, we anticipate new opportunities to improve employee engagement and satisfaction through the use of our physical and virtual place and space. NASA is an early adopter of telework across the government and continues to explore new work arrangements. 
NASA has recently embarked on a transformation initiative to redesign its talent management strategies and evolve its approach for how it delivers human resource services across the agency. As we all prepare now for the future of work that is quickly unfolding in front of us, here are three things that leaders can evaluate to develop their own focused response:
1. Work.
Start by thinking through what skills and gaps you have on your team and plan for future talent needs. Where are those skills found? What are the constraints making those skills challenging for you to access? 
The war for talent will continue to be fierce, especially for highly skilled talent in science, technology, engineering, and mathematics (STEM) disciplines. In addition to recruiting, hiring, and retaining a workforce with highly sought after expertise, organizations need to be more agile, flexible, and innovative in their approach. NASA is rethinking is reconsidering how it defines talent to include a diversity of employees ranging from full-time workers to part-time and task-based freelancers. From the rising use of contingent freelance workers to the growing role of participatory exploration and citizen science in accomplishing core NASA mission goals, non-traditional workers are becoming an increasingly important source of talent, especially for high-demand positions that require critical skills. NASA is also updating evolving its talent strategies and programs to take into account a more diverse workforce that has shifting expectations, preferences, and behaviors.
2. Workforce.
Consider how you can use new work arrangements to access new talent and capabilities, from both inside and outside your organization. Joy's law (attributed to Sun Microsystem's co-founder Bill Joy) is the principle that "no matter who you are, most of the smartest people work for someone else." How can your organization develop strategic arrangements where this isn't even a concern? You can hire well, but also tap into talent that you don't have to hire. 
It's vital for organizations to bridge the gap between internal and external in order to find the right talent for the job. NASA's Center of Excellence for Collaborative Innovation has developed multiple platforms to tap into talent inside NASA (NASA@Work, which fosters collaboration across the entire NASA community through interactive discussion and challenge-solving) and talent outside NASA (NASA Tournament Lab, which oversees the use of crowdsourcing to tackle NASA challenges). Flexible platforms allow the agility for your organization to meet the right need with the right talent--wherever that may be. 
3. Workplace.
In light of your conclusions about work and workforce, reflect on where that work could be done and how it might redefine the workplace. How does your team connect in person? Do they connect online? Do they need to be in the same building? In the same time zone? What changes could you make to the physical workspaces (including remote work)? What updates would you need to make to policies that govern digital work and collaboration to allow those changes? 
Digital transformation is occurring in every industry and remains an ongoing process across the federal government. Digital transformation leads to more informed decisions, increased operational efficiency, and streamlined processes and will span your activities, processes, competencies, capabilities, and products. NASA is prioritizing digital transformation and improving the digital user experience across human capital services and platforms. 
You can continue to follow along with us as we explore the disruptors driving the changes to our world, unlock the eight insights and opportunities for building the workforce of tomorrow, and share examples from NASA's transformation effort. For more information, visit http://blogs.nasa.gov/futureofwork.