October 10, 2019
HR Roles in a Market-Oriented Ecosystem (MOE) Organization
HR professionals deliver value as architects of talent, leadership, and organization agendas. Many have discussed how HR can and should respond to trends in talent and leadership to increase employee experience, strategic execution, customer share, investor confidence, and community reputation. There is also evolution of how to think about and operate an organization. For HR to deliver full value, it is important to define both the characteristics of the emerging organization and HR's role in making it successful. 
The Emergence of a New Organization Form
Companies have evolved through different organization forms (see Figure 1). In this evolution, an organization is "fit for purpose" by mimicking the business context in which it operates. In a complex business world, hierarchy or bureaucracy organizations needed to create clarity about who plays what role and how to divide responsibilities for those roles. In a world of independent action, too-often isolated work advocated in hierarchies needs to offer integrated solutions through aligned systems. Organization alignment models included the "STAR" by Jay Galbraith and 7-S by McKinsey. In a world of ambiguity, organizations needed to create a distinct identity, or set of capabilities, required to differentiate them in the marketplace to help them win. 
Figure 1: Evolution of Organizational Form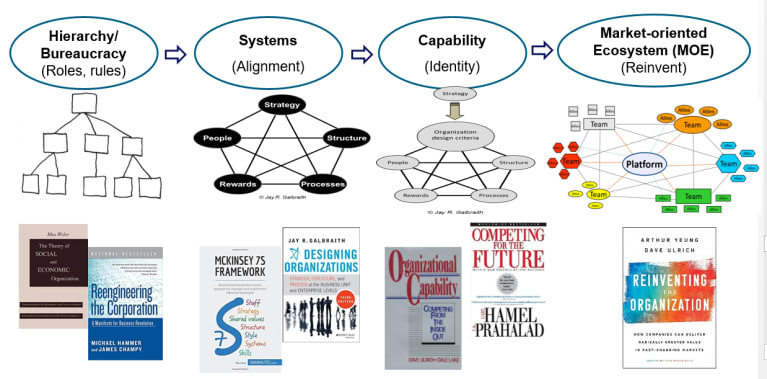 Definition of the Market-Oriented Ecosystem (MOE) 
In today's digital world of incredible change, volatility and disruption, organizations need to reinvent themselves to become ever-more responsive to dynamic market opportunities. In our study of today's leading firms (e.g., Amazon, Facebook, and Google, in the U.S.; Alibaba, DiDi, Huawei, and Tencent in China; and Supercell in Europe) and by synthesizing others' work in this area (with concepts like holacracy, boundaryless, agile, ambidextrous, network, and exponential), we have defined a new organizational form called the market-oriented ecosystem (MOE) that firms can adopt to increase market value and win.
Instead of being organized by divisions where a chain of command allocates resources, the MOE organization has a platform of resources (money, people, technology, data) that is dedicated to market opportunities. Each market opportunity is assigned an independent team (or cell) where employees anticipate customer requirements and move quickly to respond to them. Historically, this organizational logic might be seen as holding companies—with a hub and spokes. But the MOE connects the independent teams and platforms into an ecosystem to share vital information, resources, and expertise to fuel customer obsession, innovation, and agility. The MOE is a novel way of designing organizations to be both small (agility through independent teams) and large (economic scale through platforms), innovative (new market insights discovered in market-oriented teams) and learning (sharing information across teams and platforms).
HR Roles in Reinventing the MOE Organization
To reinvent hierarchical, system, or capability-based organizations and create an MOE, we envision HR engaging in five activities (figure 2).
Figure 2: HR Activities to Reinvent the (MOE) Organization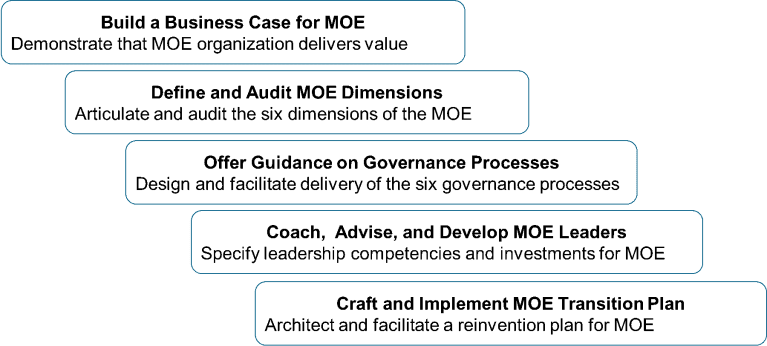 1. Build a Business Case for MOE
Business leaders have many issues to attend to: customers, investors, suppliers, strategies, products, financials, operations, and so forth. HR can help business leaders see that different organization models make a difference in progress on each of these issues. To build the business case for reinventing the organization, HR professionals may share data on the extent of change happening in their industry markets, the firm's competitive reputation for responsiveness (early adopter, average, or laggard?), or perhaps stakeholder responses to the organization (customer net promoter score, investor price/earnings ratios, or employee engagement). The business case for the MOE builds commitment to investing time and energy to create it. 
2. Define and Audit MOE Dimensions
Once business leaders recognize that adapting their organization can help them be more competitive, HR can help define and audit the firm along the six dimensions that comprise an MOE to determine how well an organization is prepared for the digital age and where to focus improvement efforts (figure 3). HR can facilitate an assessment among senior leaders and with a cross section of other employees based on these key steps. 
Figure 3: Dimensions of MOE Reinvention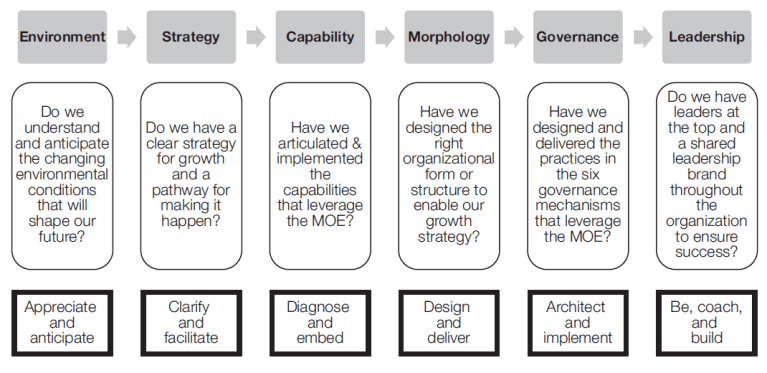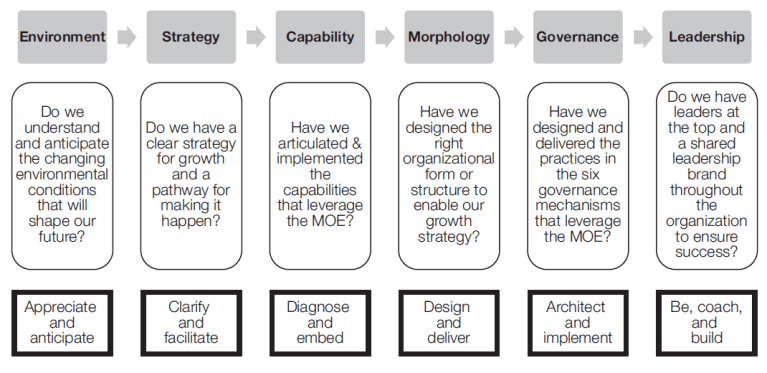 3. Offer Guidance on Governance Processes
Organizational governance used to mean exclusively, in a word, control. In the market-oriented ecosystem, governance is more about what to do so that the ecosystem moves rapidly (through independent cells or coordinated efforts) to respond to market opportunities. This governance embeds shared beliefs and priorities; aligns actions and outcomes through performance accountability and incentives; generates new ideas; deploys talent quickly; creates systems to share knowledge, data, tools, and insights; creates collaboration throughout the entire ecosystem (see figure 4). 
 
Figure 4: Six Governance Mechanisms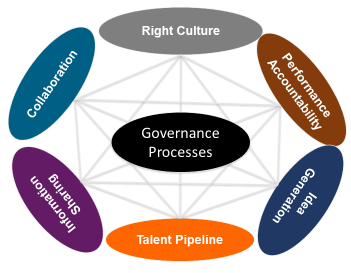 HR can play a major role in making choices in each of these six governance mechanisms:
Right Culture: HR can help establish the right culture, which is the identity of a company as perceived by its best customers made real to employees throughout the company. This right culture defines important outside/in values, expectations and behaviors to pursue collectively in an ecosystem.
Performance Accountability: HR shapes positive accountability processes that link individual actions to business outcomes, focusing not just on standards, measures, and consequences, but also on productive conversations.
Idea Generation: HR encourages a pipeline of ideas by turning personal curiosity into organizational creativity and by allowing for risk taking. Establish an innovation funnel to enable the mantra of "dream big, test small, fail fast, and learn continuously". 
Talent Pipeline: HR designs and delivers processes to bring the right people into the organization, to help them succeed, and to retain (and remove) appropriate people. HR also champions establishment of ecosystem communities that foster belief (meaning), become (personal growth), and belong (relationships).
Information Sharing: In the MOE, radical transparency exists where more not less information and insights are shared among all people and valuable data across units. HR can devise vehicles to facilitate information sharing.
Collaboration: HR ensures that the whole is greater than the parts by creating expectations and mechanisms that foster collaboration within intact teams, between platform and teams, and across teams in the ecosystem. Internal transfer pricing for services offered by platforms and between teams, shared bonus between business teams and platform … are some innovative practices to enhance collaboration.
When HR designs and delivers thoughtful choices for these six governance mechanisms, customer, innovation, and agility capabilities are sustained throughout the ecosystem. 
4. Coach, Advise, and Develop MOE Leaders 
Organizations are shaped by choices leaders make, and employees often do what leaders do. In the customer-focused, innovative, and agile MOE, leaders need to make choices and model the MOE logic in their style and daily routines. From our research, we have identified leadership competence domains and behaviors related to the MOE logic (see table 1). 
Table 1: Key Leadership Roles and Skills
Role
Leadership Skills
Business Strategist 

Anticipate and imagine future opportunities because of a deep understanding of key trends (especially technological developments and unmet customer needs).
Build consensus on where to grow (customers, products, or regions) and how to grow (buy, build, or borrow).

Organization Architect 

Replace bureaucracy's focus on internal roles and rules with customer-centric information.
Establish autonomous teams or cells that draw on platform resources and connect to each other in an ecosystem.

Culture Definer

Define the right culture as what the organization is known for based on customer promises made real to employees.
Embed culture by constantly communicating the why, what, and how of the culture.
Personally model the culture in daily actions.

Talent Manager

Commit to the strategic importance of talent and people.
Set rigorous standards to select high-caliber employees who fit the desired culture.
Inspire employees with meaning and purpose (meeting their need to believe), develop new competencies (meeting their need to become), and create positive relationships with each other (meeting their need to belong). 

Personal Proficiency

Demonstrate personal competencies for growth, including energy and passion, empathy for others, the ability to learn fast, a mission-driven outlook, resilience, and an entrepreneurial spirit.
Help other leaders acquire these personal competencies.
By being responsible for helping leaders throughout the MOE know, model, and improve on the right MOE-related behaviors, HR professionals help leaders ultimately be accountable for leadership thus enabling the creation of an MOE organization. 
5. Craft and Implement MOE Transition Plan
We found that "green field" or newer organizations had an easier time practicing the MOE principles we identified. Reinventing traditional organizations with hierarchy, systems, or capability logic is often more difficult. Leaders and HR professionals in these organizations have to follow the steps we lay out: building a business case, defining and assessing MOE principles, reconfiguring governance processes, and upgrading leadership. 
As agents of change, HR professionals can guide the MOE transition process by paying attention to some of these change insights: 
Start small
Assign a transition team 
Manage dual organization logic 
Draft a roadmap of the change journey 
Experiment and learn forward 
Reinventing an organization to become an MOE leads to positive outcomes both inside and outside the organization. HR professionals play key roles in this reinvention effort. This may require upgrading the competencies of HR professionals so that they are credible activists, strategic partners, and culture and change agents.